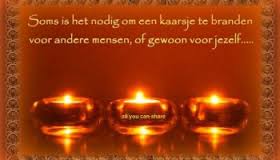 Op zondag 13 december staken we gezamelijk een kaarsje aan voor het overleden kind, in het Huijs Basten Asbeck, Nieuwestraat 20 in Groenlo.
Wereldwijd wordt er op de 2e zondag in december om 19.00 uur een kaarsje aangestoken voor het overleden kind.
Een kind, nog niet geboren…
Een baby, peuter, kleuter, puber of volwassen kind, dat misschien zelf al een kind heeft…
Als ritueelbegeleider bij afscheid geef ik samen met naasten invulling aan afscheid en help met het verwerken van verlies. De invulling kan op verschillende manieren.
Dit samenzijn op wereldlichtjesdag is hier een voorbeeld van.
Met woorden, gedichten en muziek staan we op 13 december stil bij het overleden kind.
Het koor Vivace uit Lievelde verzorgt de muzikale ondersteuning.
Na afloop is er gelegenheid om na te praten en is er koffie/thee of een drankje op eigen kosten verkrijgbaar.