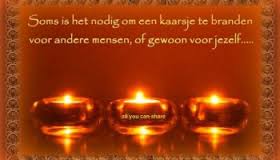 Op zondag 9 december nodig ik u uit om samen wereldlichtjesdag te vieren.
Tussen 18.30 en 18.45 uur wordt u ontvangen in zalencentrum Hogenkamp aan de Aaltenseweg 33 in Lichtenvoorde, zodat we om 19.00 uur gezamenlijk een kaarsje kunnen aansteken voor het overleden kind.
Wereldwijd wordt er op de 2e zondag in december om 19.00 uur een kaarsje aangestoken voor het overleden kind.
Een kind, nog niet geboren…
Een baby, peuter, kleuter, puber of volwassen kind, dat misschien zelf al een kind heeft…
Als ritueelbegeleider bij afscheid geef ik samen met naasten invulling aan afscheid en help met het verwerken van verlies. De invulling kan op verschillende manieren.
Dit samenzijn op wereldlichtjesdag is hier een voorbeeld van.
Met woorden, gedichten en muziek staan we op 9 december stil bij het overleden kind.
Het kleinkoor 'Second Edition' uit Lichtenvoorde verzorgt de muzikale ondersteuning.
Na afloop is er gelegenheid om na te praten en is er koffie/thee of een drankje op eigen kosten verkrijgbaar.
Wanneer u op welke manier dan ook wereldlichtjesdag een warm hart toe draagt, bent u van harte welkom. U mag uw eigen kaarsje in een houder mee brengen, om deze ook thuis nog eens te laten branden. Maar er zijn ook waxinelichtjes voorradig om te gebruiken.
Het zou fijn zijn wanneer u zich aanmeldt via de mail: Dit e-mailadres wordt beveiligd tegen spambots. JavaScript dient ingeschakeld te zijn om het te bekijken.
Maar ook zonder aanmelding bent u van harte welkom